Writtings | bibliography
Anthony Caro – Juin 1994
Bruno Durieux is perhaps the modern day equivalent of a Renaissance man. When I first met him six or seven years ago I found it hard to comprehend the fact that here was a professor of economics, a member of Parliament –soon to become a Minister of France – who was at the same time an entirely serious sculptor. No only serious but talented. (…)
In 1989 and 1990 he came to the Triangle Workshop that I founded in New-York State. It was a two week period of intensive art making by a range of artists from different countries. Here he proved, by his concentrated efforts, his artistic intelligence, but above all by the quality of his art that he was a very good sculptor. (…)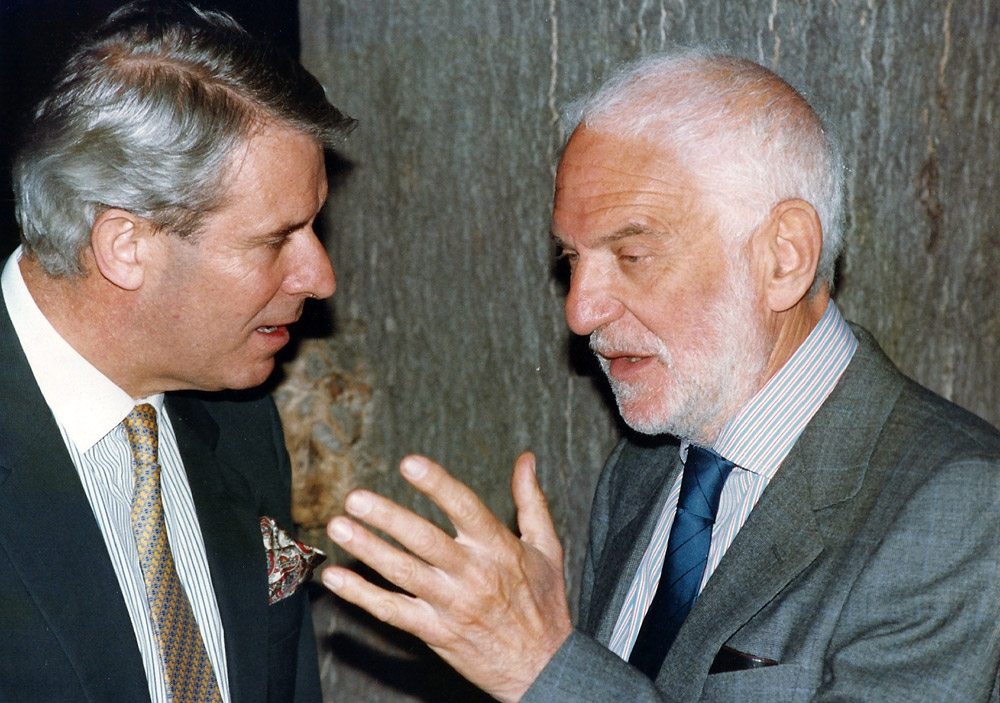 Alin Avila - 2008
In his memory, Bruno Durieux makes his curiosity for steel go back to his childhood when he appreciated to wander by a mechanic who probably descended from a blacksmith farrier, looking closely as much at the tools and the pieces made of different metals as at the manner of using all this. A mischievous and candid gaze. It was only later that he assembled metal pieces in the symbolic gesture of fusion. His job as a politician makes of this occupation only a relaxation. What a strange relaxation when twenty years after it takes up the vast park of the region of Grignan. (…)
(…) Considered from two manners, his sculpture does not hide its origins from a formal point of view. They are the noblest and the most innovating of contemporary art. Does not Anthony Caro – the greatest sculptor alive without doubts – say about Bruno Durieux that he is the last Renaissance man? He knows he can at the same time make the shapes of the metal live and be passionate about human issues and the future of our society. But if his sculptures would find their places in a museum, setting what we can call a research on the path of a formalism of the imagination, they must before all be considered in a whole and in the process they make up in this hill. (…)
(…) The garden of Bruno Durieux is the peer of Tinguely's. It responds to the need to rebuild an Eden where the mythical elements are made of contemporary metals.
Bruno Durieux - Extraits du « Chant des courbes » 2008
«(...) I respect the mark of the blacksmith. I am more in the continuity than in the appropriation. (…)
(…) I like to assemble objects that are rich and poor, noble and ordinary and to make something meaningful. This challenge is my ambition. (…)
(…) With three objects that are the most humble, insignificant and modest that can be, interesting dispositions are to be searched and that is when ideas come. (…)
(…) The seat of a tractor, the blade of a blow, a wheel tell a little bit of people's stories. (…)
(…) In the same piece I put the most radical figure together with a poetical disorder. I make intuitivism come out of logic. (…)
(…) You will always find empty and full spaces in it, light and massive parts, light and shadow, lines and tint areas, covered and transparent sections. I am trying to go further in these directions. (…)
(…) What is beautiful about hairnets are the empty spaces, luminous like those between the letters on a blank sheet of paper. (…)
(…) I think we should head to soberness. An outlook can be revealed with the most rudimentary objects. Those, which have once been used, which are nothing anymore and which become something again in a whole, contribute to a certain poetry and compose a story. (…)
(…) Iron is flexible, malleable, it can be flattened, widened, soldered. It is perfectly suited to abstract process. (…)
(…) The welded joint is an organic bond that enables to procreate a unique object like a new word. (…)
(…) Music is a set of sounds sculpted on silence. I like when I make my sculptures pealed by a blow of hammer. (…)
(…) At the Ecole Polytechnique, I was particularly interested in mathematics and economics courses but also painting at the workshop of Fontanarosa – who came from the Julian Academy. He was a wonderful teacher. When I got out of the school, he encouraged me to enter the Beaux-Arts. I answered Lucien Fontanarosa that I would dedicate myself to economic issues. He said to me: "if I am right, you will see, the need to create won't give up on you." I remembered this sentence years later. I need artistic production. It is periodically apparent like a plant that is cut and invariably reconvenes. If I am away from my workshop, I get impatient, irritable … (…)
(…) In the morning I go to my workshop. I take a slab, mold the edges, create disorders, profusions. (…)
(…) David Smith bulks large in my Pantheon of sculpture. An economist friend of mine, once brought me a catalog of David Smith from the US. I discovered him when I had already made my way on my own. I instantly understood the significance of his work. He made me considerably move forward. I also look up to Alber Ferraud who welcomed me in his workshop. His work does not have the impact it deserves. It is yet very important. I also owe a lot to Anthony Caro and his work. He dealt with everything. He always reinvents. What is left to be done after him? I asked myself the question … And the answer is … that he set the bar very high!
Quoted notes by Nathalie Mei in "Le Chant des Courbes" edition Aréa.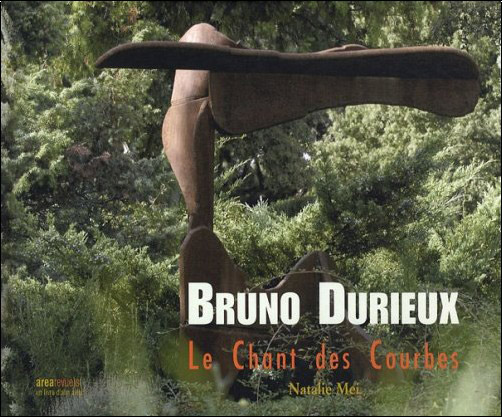 Bruno Durieux – Extraits du livre « sculptures » 1994
«A retrospective look on these sculptures - gathered to make this publication – made me feel like they were holding a sort of classical ambition. I wanted them to be sober and balanced, simple and synthetic, like what the French classical art has produced during centuries.
I assure this statement conscious of the fact that binding abstract, steel waste made sculptures to classicism is paradoxical. Yet, it is legitimate.
The classical spirit is compatible with abstraction as well as any execution material. A the end of the last century, Maurice Denis assured that « a picture, before being a battle horse, a nude, or an anecdote, is essentially a flat surface covered with colors assembled in a certain order". Gauguin recommended to not copy nature as, he said, "painting is an abstraction". Both of them were classical artists who were thinking arts in terms of abstraction, far before its outbreak. Deservedly, César claims to be a classical artist. In his extremely rich work, Anthony Caro also produces pieces of a clearly classical abstraction. (…)
(…) The use of iron in sculptures does not spontaneously combine with classical spirit. It rather leads to expressionist or baroque pieces. This is due to the characteristics of this metal that can be twisted or curved as much as you want. It is the most malleable and resistant of all material of sculpture. It is flexible, quick, impulsive, nervous, challenging, sharp, vigorous. It enables the most striking, the most surprising, the brightest, in one word the most expressionist effects. But the spirit of what I do tries to resist to the strong nature of metal and tends to subordinate emotion to style. I seek to connect my work to this classicism, the nature and the meaning of which Baudelaire accurately expresses in a project of preface for Les Fleurs du Mal : "rhythm and rime respond in oneself to the immortal needs of monotony, symmetry and surprise" against "the vanity and danger of inspiration".